Zanzibar Islands
Zanzibar is part of the East African republic of Tanzania (particularly The United Republic of Tanzania). Tanzania consists of the Zanzibar archipelago in the Indian Ocean, 25-50km (15-30mi) off the coast off the mainland.
There are numerous small islands, and two large ones: Unguja (the main island, informally referred to as "Zanzibar Island"), and Pemba Island. Zanzibar was once a separate state with a long trading history within the Arab world; it united with Tanganyika to form Tanzania in 1964, and still enjoys a high degree of autonomy within the union.
Zanzibar has a lot to offer with regard to tourism. Colorful culture, amazing nature and and most of all a peaceful and harmonic atmosphere. Lots of famous celebrities like Bill Gates, Will & Jada Pinkett-Smith, Naomi Campbell, Danny Glover, John Legend and more have enjoyed the thrust of a Holiday in Zanzibar at least once.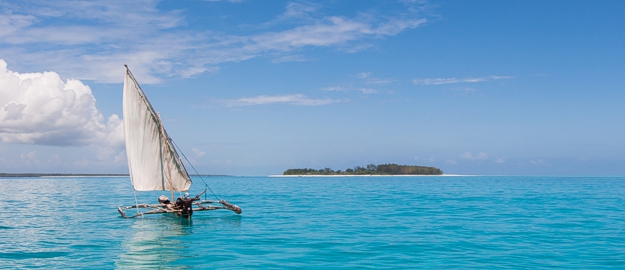 Unguja Island (Zanzibar Island)
The capital of Zanzibar, located on the island of Unguja, is Zanzibar City and its old quarter, known as Stone Town, is a World Heritage Site and a great historical spot. The main industries are spices, raffia, and tourism.
It is still sometimes referred to as the Spice Islands (a term also associated with the Maluku Islands in Indonesia), because of the significance of its production of cloves, of which it used to be the world leader, and also nutmeg, cinnamon and pepper. Your visit should definitely not miss the aroma of the Spice Island through the Spice Tour in Zanzibar.
Pemba Island
The island of Pemba known as 'Al Jazeera Al Khadra' (the green island, in Arabic) is an island forming part of the Zanzibar archipelago, lying off the east coast of Africa in the Indian Ocean. It is situated about 50 kilometres to the north of the island of Zanzibar.
In 1988, the estimated population was 265,000, with an area of 980kmsq. Most of the island, which is hillier and more fertile than Zanzibar, is dominated by small scale farming. There is large scale farming of cash crops such as cloves - there are over 3 million clove trees.
Pemba is also becoming a well-known Zanzibar holiday spot for its dive sites, with vertiginous drop-offs, untouched coral and very abundant marine life. Great place to visit and scuba dive!
The most important towns in Pemba are Chake-Chake (the capital), Mkoani, and Wete. Pemba is with the exception of a strip along the east coastal area a very fertile place; beside clove trees the locals grow mainly rice, coconut, bananas, cassava and red beans called 'maharagwe' in Kiswahili.